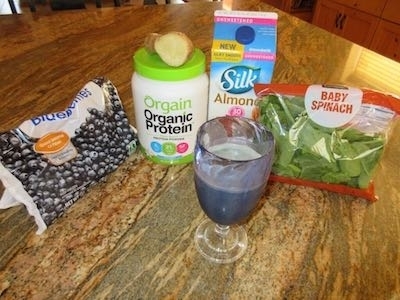 Food is my life. Literally.
As a certified, online personal trainer and nutrition coach, it's my job to help people work towards their health and fitness goals. Food is a big part of that equation — especially when it comes to weight loss.
A common rule of thumb is that weight loss is about 75% nutrition choices and 25% exercise. Of course, both are important, but if you're not eating right — you're shooting your fitness goals in the foot. That's why I make sure that I start every day off with a healthy breakfast. Skip your daily trip to Jamba juice. This protein-packed smoothie is the all-star in my weekly breakfast roster.
Instead of fruit juice (which can be packed with as much sugar as a soft drink), I use unsweetened almond milk as the base of my smoothie. Then I toss in a handful of fresh blueberries and spinach for a punch of antioxidants. My secret ingredient: A couple of slices of raw ginger. It adds a little zing to my shake and helps contribute to good digestion. Last, I add a scoop of Orgain's plant-based protein powder. It's got 21 grams of vegan protein with only 150 calories per serving — but you can sub in the protein powder of your choice.
Toss everything into the blender, and you've got a quick, healthy breakfast you can enjoy on the go. Added benefit: Making a healthy choice in the morning makes it that much easier to keep making good choices for lunch and dinner.
Here's the recipe:
Protein-packed Breakfast Smoothie
1 c. unsweetened almond milk
1 scoop Orgain vanilla plant-based protein (or your protein powder of choice)
1 c. spinach
¼ c. blueberries
A couple of slices of raw ginger
Throw everything in the blender and blend until smooth.