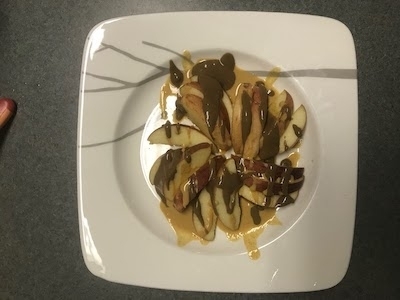 Let's be real. Everyone has cravings. Salty things. Sweet things. Crispy, fried things. Delicious high fat, sugary things. We all have a weakness — even me, and I'm an online personal trainer.
When you help people get fit and stay fit for a living, people expect that you are somehow immune to cravings. Not so, my friends. Cravings happen. To everyone. Including me.
For me, the trick to managing cravings is to indulge in things that still fuel my body the right way.
Case in point: apple nachos. Yes, you heard that right: Apple. Nachos. What are apple nachos, you ask? Please, allow me to enlighten you: Slices of sweet, juicy apples drizzled with chocolate and peanut butter sauce. Right now, you're probably saying: "Taylor, how could chocolate and peanut butter sauce possibly be part of this healthy meal?" They can, because of the magic of PB2 and chocolate protein powder. These saucy little apple bites are just the right amount of sweet and tart — with a balance of fiber, carbs, and protein.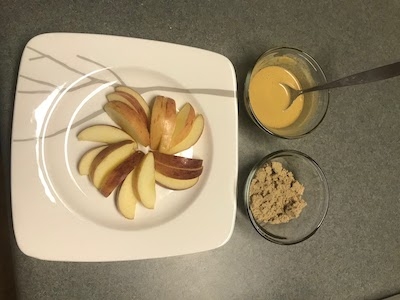 I love to whip these apple nachos up as post-workout, late night snack. As a bonus, my toddler loves them too! Here's the recipe:
Apple Nachos

1 apple
1 scoop chocolate protein powder
2 Tbsp PB2
Core and slice apple into wedges.
Mix 2 tbsp of PB2 with just enough water to get a thin consistency to drizzle over the wedges.
Repeat with 1 scoop of chocolate protein powder.
Drizzle over apple wedges.
Calories: 270
Carbs: 36
Protein: 26
Fats: 3g
*You can also leave the PB2 and protein powder a little thicker and dip the slices for a less messy treat! Nutrition will vary depending on the protein powder used.